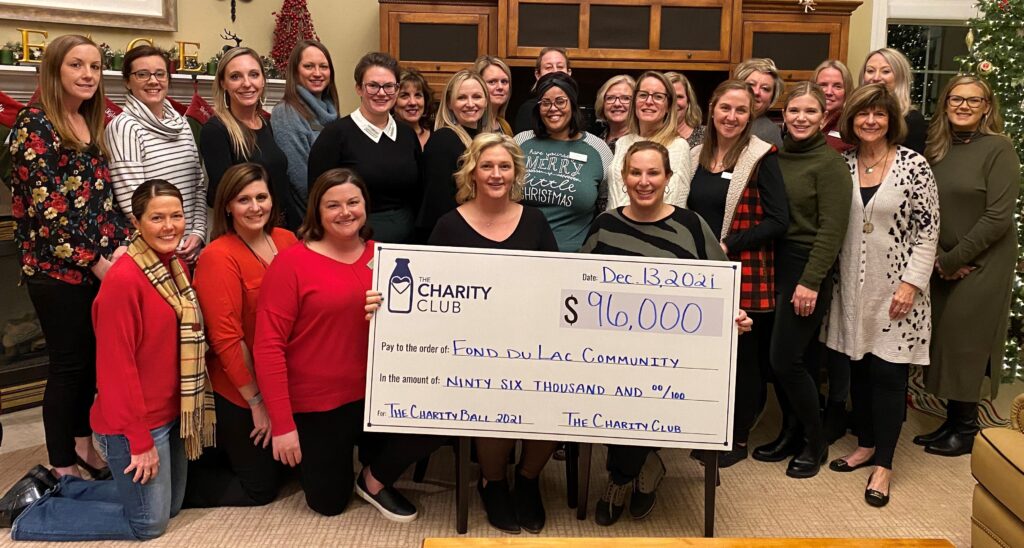 The Charity Club, a nonprofit organization dedicated to supporting the health and nutrition of children in Fond du Lac, raised over $96,000 at the 121st Charity Ball on December 3, 2021. The red carpet-themed gala was held at Hotel Retlaw.
Net profits will be directed to children and families in the community; 60% benefits The Milk Fund and 40% benefits local program and project needs. "The Charity Club is 100% volunteer-based. The money raised does not go into administration costs, but directly back into the community," said Holly Luehring, gala co-chair.
The Charity Ball saw record-breaking numbers not only in net profits, but also sponsorship and attendance. The gala's success was achieved in-part through a multitude of fundraising methods, including live and silent auctions, a jewelry raffle, and a cash raffle.
Sponsors of The Charity Ball were Michels Corporation, SSM Health, Associated Bank, National Exchange Bank & Trust, Holiday Automotive, Vir-Clar Farms, C.D. Smith, Bob's Pizza, J. F. Ahern, Society Insurance, Sadoff Family Foundation, Adashun Jones, Signature Homes by Adashun Jones, Alliant Energy, Huberty, Grande, Partners by Design, Lakeside Wealth Management, Rural Mutual Insurance Company, Baker Cheese, TTI Inc, Lake Breeze Dairy, LLC, Millhouse, Red Tail Ridge Dairy, Clover Hill Dairy, McNamara & Thiel Insurance Agency, Radio Plus, Westphal, Summit Automotive, and The Goldsmith.
"We are overwhelmed by the support and passion of our loyal sponsors and guests, and we are enthused to continue the tradition of providing milk to children in our community," said gala co-chair Molly Jaster. "Netting over $96,000 is truly a testament to the generosity of those who believe in Fond du Lac and support the mission of The Charity Club."
Having been established in 1900, The Charity Club is the oldest charitable organization in the city of Fond du Lac. The first Charity Ball was held in 1910 at the home of Edwin Galloway, the now historic Galloway House. According to a newspaper article in 1970, The Charity Ball has been held every year since the turn of the century with the exception of the years during the two World Wars. The Charity Ball was held virtually in 2020 in response to a global pandemic.